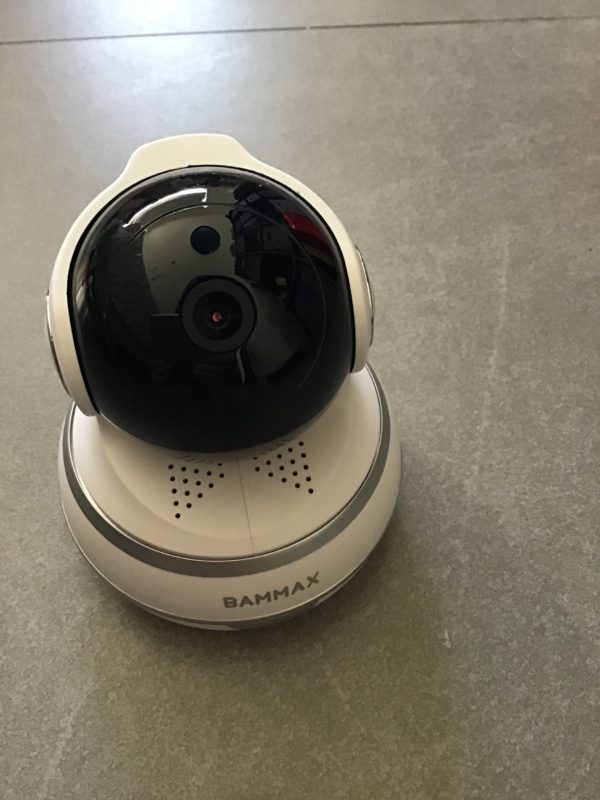 My friend Jason bought this camera for his apartment, to keep an eye on his dog Benny when he's at work in the office. It was so impressive I had to have one myself: it's the Bammax BMBM01 Smart Camera. This thing is way more than a security camera. It's a two-way walkie talkie, great as a baby or pet monitor for real time interaction, or to see what's in your kitchen cupboard. Here are my impressions.
The BAMMAX Smart Camera weighs less than half a pound and is somewhat of a web cam that's connected to the internet at all times. You can remote control it from an iOS or Android App, as well as Mac and Windows apps. Once connected to your WiFi network it's ready to go. At the bottom of the camera is a standard size tripod screw, and the product comes with a bracket for wall or ceiling mounting (including two wall plugs and screws). There's also a proprietary USB charging cable included and a charger.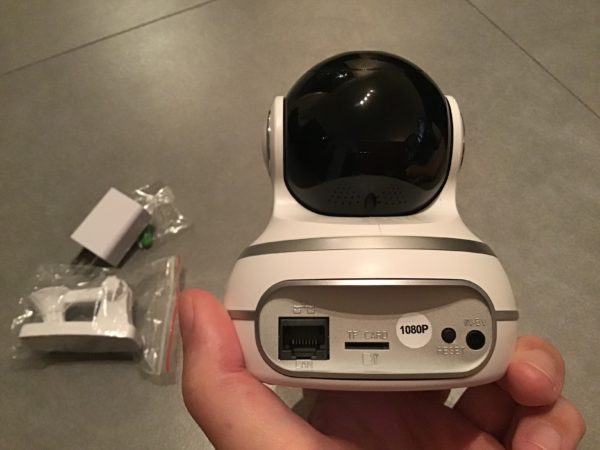 Pairing is seriously futuristic, and had I known how much fun it was, I would have videoed it: You follow a QR code in the included the instruction manual (also included). This brings you to an App, which upon first launch will ask you to create an account with YI (that's the company that operates the back-end infrastructure for cloud recording, also makers of the control app). I found this slightly sneaky because I'm controlling a local piece of hardware on my own network, and I'm really not using anyone else's servers at this time – nor do I intend to.
Be that as it may, once logged in the app allows us to add a camera in the vicinity on our WiFi (or wired) network. You enter your WiFi password, and the app then shows another QR code, which in turn needs to be shown to the BAMMAX camera so that it can login to the local network. The noises both devices make as this happens are hilarious, straight out of Star Wars!
Once connected, the real fun begins. The camera show us an almost 360 degree panorama of a room it sits in. We can see a live feed (with 3-4 seconds delay) either in SD or HD. We can press record at any time to start recording onto a micro SD card that fits into the back (up to 64GB), or we can just watch. We can manually control where the camera is pointing, or we can use an "auto tracking" feature, which follows the action. I had fun being followed as I walked up and down the room.
The camera has a built-in microphone as well as a speaker. Those in combination can be used to listen to the room we're monitoring, but we can also speak into the app and our voice comes out of the camera. Jason's dog LOVES this, and he behaves as if Jason was in the room. It's super fun to watch. Two-way conversations can be initiated as "push to talk", or as "two-way" for hands-free conversations.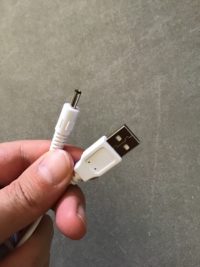 You can either kick-off a recording manually, or set the camera to start recording when motion is detected. There's also an option to detect a crying baby, and both of these scenarios will trigger an iOS/Android notification on your phone. This means you can then choose to open the app and check what's going on live. There's also an option to take still pictures that are sent directly to your phone, and even panoramas. These are essentially sequential shots the camera takes by itself in succession over a period of several seconds. They're also larger and take a moment to arrive on the phone.
All content is recorded continuously on the local Micro SD card and can be viewed with the app as a stream. The stream can be recorded in the app onto the phone for immediate viewing, but regardless a separate local recording always exists on the local camera's Micro SD card (when inserted and formatted). Formatted can be done remotely should the need arise. 
Here's some footage I took with the Bammax BMBM01 Smart Camera. It's essentially me typing the review, in low light conditions. Quality is very good for the low data rate this camera provides:
The way the files are organised is an interesting one: each minute of video footage gets its own file name. The footage can be stitched together seamlessly. Files are in .mp4 format with AVC1 codec. The main stream is encoded at 1920×1080 in 20fps. In regards to size, each minute of video is just under 10MB, which means that one hour takes up around 500MB, a whole 24 hour period takes up roughly 12GB.
A quick note on memory cards: the booklet states this camera can take up to 64GB sized micro SD cards. I've tried one and it worked fine, but I also tried a 128GB Samsung EVO Select card and it also worked fine. The file format used is FAT32 when formatted with the app. Oddly though, when I take the card out of the camera, I always get an error message that some file is damaged. I have to run Scandisk (offered by Windows 10 automatically) and it runs without detecting issues. However on my Mac, I don't get this option and the card cannot be read. I wish the developers would address this problem.
The quality of the footage itself is very good for a security camera. It's sensitive even in very subdued or dark indoor conditions, and the field of view is about 100 degrees – that's just a guesstimate, I'm comparing this to both my web cams, and the BAMMAX is wider than my widest Logitech C930e web cam. There's an option to correct the fisheye effect automatically too (enabled by default). The streaming data rate in HD mode is just over 100KB/s, and in SD mode it's less than half. This means you're not killing your data plan and can still view a live stream on slow connections. Thankfully the unit is super quiet when it operates. The motor that makes it tat and rotate is barely audible, and there are no colourful flashy lights on the unit either, so it won't alert a burglar or wake up a sleeping baby.
Once setup, the camera can be shared with other trusted users. Multiple cameras can be administered under the same account and in the same app. There is an in-app purchase option with a free trial available that lets you store camera footage in the cloud for extended periods of time automatically.
I've only tested the iOS version of the app, but it's well designed and easy to use. Camera navigation is like a virtual joystick, settings are well explained and self intuitive, and many aspects are customisable, including the cloud storage in-app purchase (which I have also not tried, despite the free trial).
Whether you have a pet or want to monitor a baby, or just keep an eye on that remote summer property in a different country, it can all be done with this BAMMAX camera and the YI mobile app. The tripod screw at the bottom makes it useful for other experimental broadcast applications, local or remote.