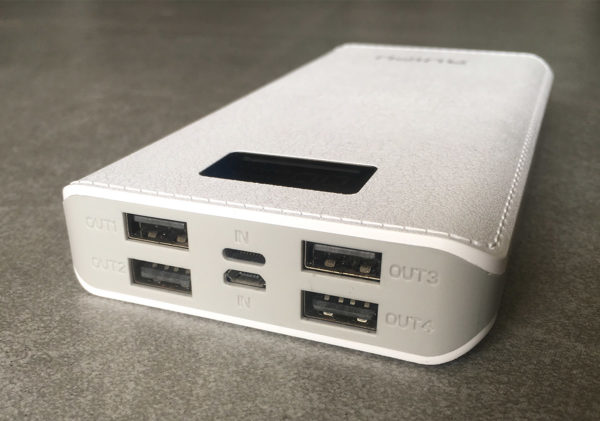 Ruipu have released a new 24,000mAh Power Bank. Being extremely satisfied with their other Solar Power Banks, I though I'd give this one a spin. It has some interesting features that I though were worth exploring.
First of all, the Ruipu Q80 is a thing of beauty: it's made of white plastic with a faux leather pattern ingrained. It even has "stitches" embossed on the sides, as if it's made of white leather. It's not though – it's standard plastic, but it just looks gorgeous.
Features
The Q80 has FOUR USB outputs, and all of them can be used at the same time. That's right!  You can charge up four devices at once. Even better, ALL ports support fast charging, delivering up to 2.1A if a capable device can handle this much power. The iPhone 6 and above for example and several other gadgets all support fast charging.
Devices like the GoPro and many others that do not support this feature simply charge with 1A or less, which takes a bit longer – but there's no danger of too much juice going into attached devices.
The Q80 also has a bright blue LED display to keep us informed about the current remaining charging level. It also tells us which ports are currently charging a device: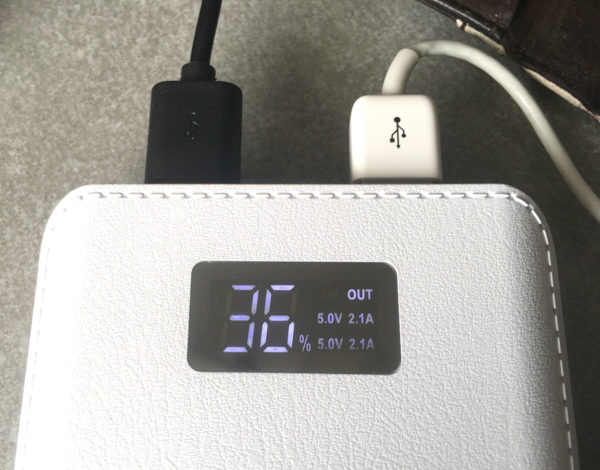 In the above picture I'm charging a GoPro (left) and an iPhone 5s (right). Neither device is fast charging capable, even though the display shows it's using 2.1A. There's just not enough room on the display to make that distinction – so don't take it too seriously.
Notice that there are two lines that display "5.0V 2.1A". The top line will show if devices are plugged into the two ports on the left, whereas the second line will show if devices are plugged in to the right. The OUT status will show if the device is in discharge mode, while the IN status will show when the device is charging itself up.
The display will stay on for about five minutes and then go to sleep. The Ruipu will eep charging your devices after that. On occasion, the display may wake up again… I can't quite detect a pattern to this behaviour…
Also, the display is very bright, easily readable outdoors. However, it's so bright that it might just be too bright for indoor use in dark rooms. If that's the case, just turn the device over so the display faces down. An electronic option would perhaps been a nice touch, if simply to conserve battery power (I don't know how much juice the display takes, probably not a lot, but being a stickler for details and energy efficiency, that's maybe what I would have added here).
Charging vs Discharge Mode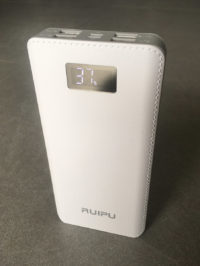 The Ruipu Power Bank can only either charge up itself (Charge Mode), or it can charge up other device (Discharge Mode). Most Power Banks work by the same principle.
What makes the Ruipu Q80 special is that it has TWO inputs: one Micro USB input, and one Apple Lightning input. They can't be used at the same time though, and they're here for out convenience. Whichever charging cable you've got lying around, you can use it to charge up your Ruipu! Is that cool or what? Get rid of some cable clutter this way.
It's also nice if you're in need to charge your Ruipu and haven't got the right cable with you. With a choice of two inputs, you're more likely to borrow a cable from a friend. Your chances of recharging have just doubled. It's those little things that mean a lot to me. It means the manufacturer has really thought about what would be a useful addition to a gadget that can't really be improved otherwise.
Accessories and Oddities
The device comes with a Micro USB cable (30cm or about 1ft long) and instructions. It also comes with instructions in English and Chinese in a buff coloured box, as well as a instructions on how to contact the company. That's a nice touch.
Oddly enough, there's a second email mentioned in the instructions, relating to a company called Auber. This might be due to the fact that this gadget is also sold under different brands – but that's just a guess on my part.
Emergency Light
The Ruipu also has a little light on the side to help you find that lost memory card underneath your desk, or illuminate the inside of a bag: press the button on the side twice and it'll spring into action. My other Ruipu Solar Power Banks have that feature too, and it's always a welcome addition to any battery pack to have this.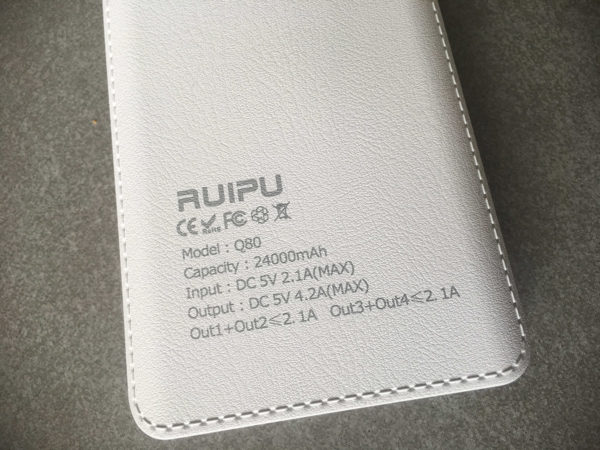 Power, Weight and Size
24,000 mAh is the equivalent of about FOURTEEN standard iPhone batteries, or little over TEN iPhone Plus/Max batteries. It is powerful enough to charge up my wife's ACER Chromebook via USB C. I have always loved that about these huge Power Banks. On a single charge, they never seem to run out of juice.
That much energy storage is made possible with many large power cells on the inside (I'm estimating about 8 cells, about the size of an AA battery or similar – but I can't confirm this as I've not been mad enough to take this puppy apart). As such, the Ruipu is a little heavy. It's about 1 pound or 500g, so it's not the best choice to carry around with you in your trousers for a whole day.
In regards to size, it's the height and width of an iPhone Plus/Max, roughly 7×5 inches (or 18x12cm), just under one inch in thickness (about 2cm). That's big. And heavy. At the same time, that size and weight is dictated by the density of current Li-ion battery technology. Smaller and lighter Power Banks usually have less capacity and don't last as long.
It'll take about 5-6 hours to charge up this unit completely with a 2.5 A power charger I use (a RAVpower with 6 USB output – this thing RULES). You can charge it up with lesser capacity wall chargers, but it'll take longer for the Ruipu to be full.
There is a bit of energy loss that happens in this process of transferring energy from the Ruipu to an attached device, but with a full Q80 unit, a standard iPhone can be charged up about 6-8 times, and an iPad can be charged about 3-4 times. My GoPro cameras are really power hungry beasts, so I often have them recording in a stationary position with the Ruipu attached. They last for hours! One day I'll measure how long they can record with a full Ruipu attached. I wager it will probably outlast the largest memory card I can afford
Peak Efficiency
I've seen negative reviews about this Ruipu unit, claiming that it's not as powerful as users would have expected a 24,000 mAh unit to be.
Here's the thing: It is very easy to overlook that even the largest and most powerful battery needs to be fully charged and discharged a few times to develop its peak efficiency. I recommend this with every Power Bank you get: don't judge it until you've used it several times. Peak efficiency will come.
If after 5 full charge/discharge cycles you still get issues, get in touch with Ruipu customer service – they'll make it right.
Verdict
The Ruipu is a beautiful powerful energy source that is capable of fast charging up four devices. It can take two different types of input, depending on which cable you've got lying around. All the while, it tells you exactly when it runs out of juice and how much power you've got left.
In short: this thing has you and your family covered on long road trips and in times of emergency. It may not be the post portable and lightweight unit, but it's certainly one of the most good looking, long lasting and versatile units on the market.
For $30, this is currently as good as it gets. I highly recommend this Power Bank.