I've recently seen what I thought could be an interesting game called Filament. It had just been released, and I thought I'd buy it. They had it on offer through Humble Bundle. They had it on sale, I was hyped, and I bought it. I even went via a friend's referral code to support him. All was well.
Humble don't make software available for download though. They give you a redemption key for another place, or a software key that makes whatever you buy operational. It's a really clever system. In my case, I got a Steam Key that I duly redeemed, so now the game was in my Steam Library.
I played it later that day (in fact, I even streamed it so I could play it with friends and solve puzzles together), but it turned out the game wasn't really what I had expected. Although a great effort by the team that made it, it was not for me. Thoughts of a refund came to mind. But since I bought it through Humble, the refund wouldn't go through Steam… how would this work, I wondered?
It worked great actually, let me share my experiences with you here.
Different Refund Policies
I remember back in the day of physical discs, you could bring your overpriced Playstation games (and DVDs in fact) back to the shop within 30 days, sometimes 60. Those days are long gone of course, unless the product is defective. Since the dawn of the online game distribution marketplaces, things have changed. But still, most places have a refund policy.
Steam for example state that you can get a refund for your purchase within 14 days if you haven't played more than 2 hours. EPIC have the same refund policy. They review this case by case though, so they may give you a refund outside these criteria. Which is nice!
Humble on the other hand, selling a lot more than just games, state that they're happy to give you a refund within 60 days of your purchase in principle, evaluating requests on a case by case basis. Between the two of them I was covered: I had played the game for less than 2 hours, and I had only bought it earlier in the day.
So if Humble would give me the refund, what would happen to the game?
The Humble/Steam Refund
Here's what happened: a lovely lady named Becca looked at my case and refunded the money right back into my PayPal account, no questions asked. Only a few hours after I had asked and explained my situation, I had my money back and the case was closed.
To my surprise, the game itself though was still in my library. Would they let me keep it? Could it be somehow removed from my account, as it would with regular Steam refunds? Nothing seemed to have happened immediately, nor did I see anything on days 2 or 3. Filament remained in my account.
Then came day 4 (today) and I see this notice popping up in my Steam client: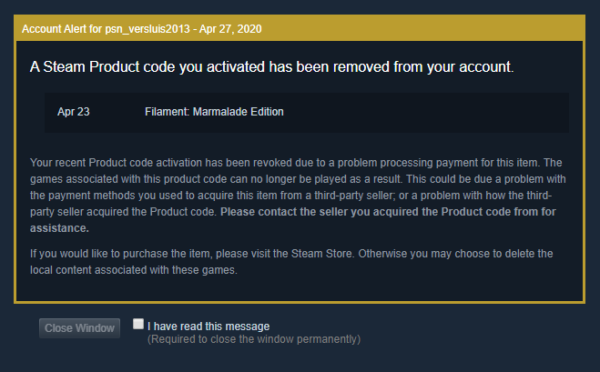 That answered my question: the refunded game was indeed removed from my account, and now I no longer have it available. So that's how they do it:
Humble give you the refund
Steam remove the game a few days later
Another puzzle solved! Given the complex nature of such a case, I'm super happy to tell you that it all worked flawlessly, and thought I'd share the "how" with you.