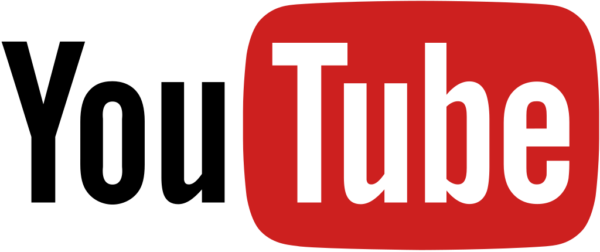 When I do live streams on YouTube, I frequently forget to record my programme locally. I guess there's just so many buttons to press in the heat of the moment.
Hence I was looking for a way to extract full 1080p HD footage from YouTube, ideally both for my own files as well as those from other users.
Right now (February 2019), YouTube only allows me to download a 720p version of my own clips, and a YouTube Premium subscription is required to download other users' footage. Either way, my desktop streams are usually 1080p, and that's what I'd like to download for local archiving. 
I hunted around for a solution, and doing a quick Google search presented several contenders – many of which no longer work since YouTube have once again re-jigged some aspect of their operation. Most solutions, online and offline, can handle 720p for free, but again that's not what I was looking for.
Thankfully I found a Firefox Add-On by a developer named Dishita, called Easy YouTube Downloader. It's available for free from the Firefox Add-Ons repository.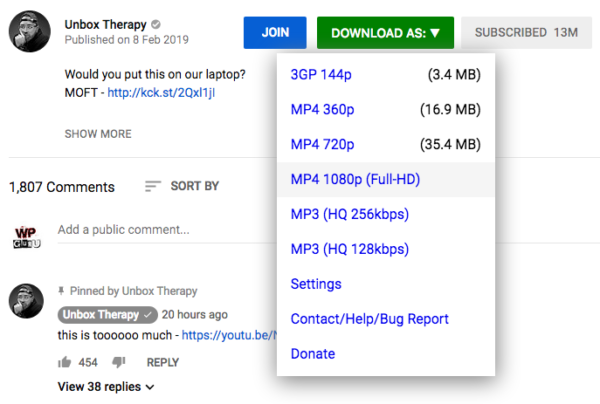 Once installed into Firefox, it displays a handy green Download button underneath each video. Clicking it will allow us to download the video in a variety of resolutions.
From what I can tell, this magic is made possible by Dishita's server downloading the video and audio separately, then muxing it together again for us to download. This may take a moment or two, depending on the size of the clip.
I love the choice of options, which include MP3 for the "podcast listening" experience on my bike. 1080p and MP3 are only available with the "pro" version, which unlocks after making a one-off donation to the developer. This will also remove the donation prompt and comes with full instructions on how to unlock the Pro features on other computers.

Sometimes this step doesn't always work the first time, but simply pressing that green download button again will usually make it happen. I do live streams on YouTube, and I frequently forget to record the clips locally – hence this is an excellent tool to preserve my data for local archiving if I don't have a copy. It's also nice to turn YouTube videos into audio streams for a "podcast listening" experience, or to watch footage when an internet connection is not available.
Small Issues
I've noticed that the downloaded clips are our of sync, at least in 1080p (the audio advances video by about 6 frames or 240ms). For me that's not a big issue when I have to top and tail my footage in an editor anyway. 720p downloads do not seem to have this problem, or perhaps I've not noticed it yet.
While not a deal breaker, it is slightly annoying and I thought I'd bring this to Dishita's attention – and take the opportunity to thank him for his hard work. I even offered to upload specific test clips for fault finding. That's the least I can do if I have an issue I'd like to see fixed.
He got back to me a day later, asking me to write a review on Firefox about this plugin. He also said that the sync issue has "nothing to do with his servers". I must admit I was slightly taken aback by this reaction.
I appreciate all the hard work that's gone into this project, but a developer asks users to report issues, and then doesn't acknowledge or look into them, I'm a little confused. And, not exactly what I expect to hear after just having made a donation to his project.
Verdict
I'll give this thing 4 stars, and I definitely recommend it. It's my go-to tool to extract videos from YouTube, until YouTube lets us download footage in 1080p ourselves (something that's already available with Twitch and Vimeo, the latter even lets us download the original upload file).
To make it 5 stars, I'd like to see a better customer support experience (perhaps a "thank you for your donation" would go a long way), and for the sync issues to be fixed.
Pros:
multi platform: works everywhere you can install Firefox
super easy installation
works
extracts multiple resolutions, from 128kbps MP3 to 1080p MP4
Cons:
1080p is out of sync
shocking customer support
Download and Support: