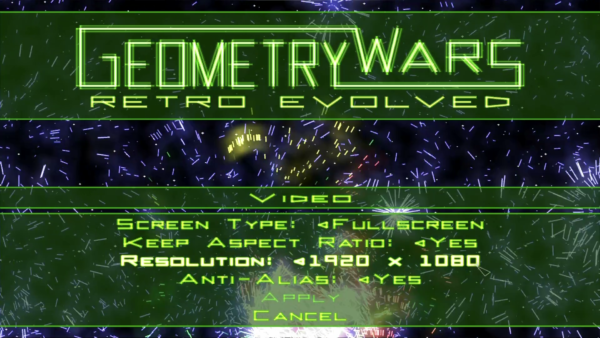 I've just picked up a copy of Geometry Wars: Retro Evolved on Steam. I used to love this twin-stick arcade shooter since I first discovered it in Project Gotham Racing. I had the Xbox 360 version too, and haven't thought about it for many years. I didn't even know it was available on Steam until today, and picked up a copy for $1.99 – happy memories!
I browsed through the resolution options pretty much immediately, since the game comes up with a default of 640×480, which is a tad low for today's screens. By default though, the highest I could set it to was something along the lines of 1280×720 (or derivatives thereof), and truth be told, that's troublesome for streaming. Was that as high as it went? Did I need a dodgy patch to go any higher?
Thankfully no, a 1920×1080 option is built in, but it's not exactly obvious how to obtain it. Here's how to do it:
head over to Help and Options
select Video
set Keep Aspect Ratio to YES
now select 1920×1080
The Aspect Ratio is the crucial part. Setting this to YES will unlock other resolutions that were not available with the default option of NO. Much easier than I thought.