Ever since I've discovered how useful Spaces are on my Mac, I've been wanting a similar functionality in Windows. I've come across this feature in KDE and Gnome on Linux, but not in Windows.
Until yesterday evening, when I wanted to switch between applications that were stacked on top of one another, using the familiar ALT + TAB shortcut. By where accident I've pressed WINDOWS + TAB, and imagine my surprise when I found this: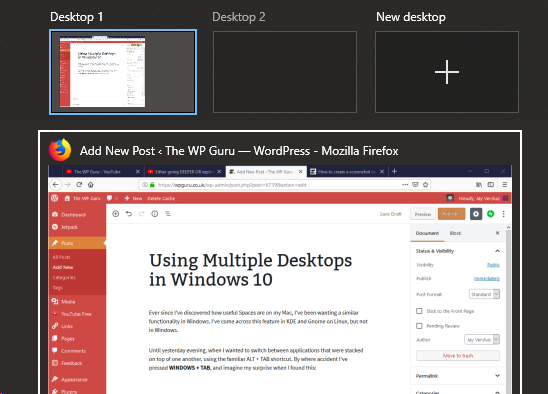 This super exciting feature is actually a new addition to the Windows 10 Fall Creator Update if I remember correctly, called the Task View. It's the same view that opens when we click that little icon to the left of the Cortana Search bar in the Task Bar.
Besides a history if everything we've been doing, we get to create new independent Desktop environments at the top. This allows us to launch different apps on different Desktops, instantly decluttering our already all too crowded workflow. For example, have a browser open in one Desktop, and a full screen app in another, without having to stack them on top of each other, or using separate monitors. Your neck will be forever grateful.
I find this functionality particularly useful for streaming purposes: to switch scenes live in OBS, I really need a second monitor… but my desk is too small for that. By operating OBS on an independent Desktop, I can quickly switch over there and do what I need to do, without interrupting whatever is happening on my main Desktop that's going live to air
Here's Microsoft's Support Article about Multiple Desktops.
Enjoy Mac Spaces – now available in Windows