I was looking for a small portable monitor, the size of a laptop screen with a HDMI input. Most big brands offer sizes of 22″ and larger, but during the COVID crisis I needed something smaller for a streaming setup in my spare room. This WHOLEV model seemed to fit my needs (I got the 12″ version).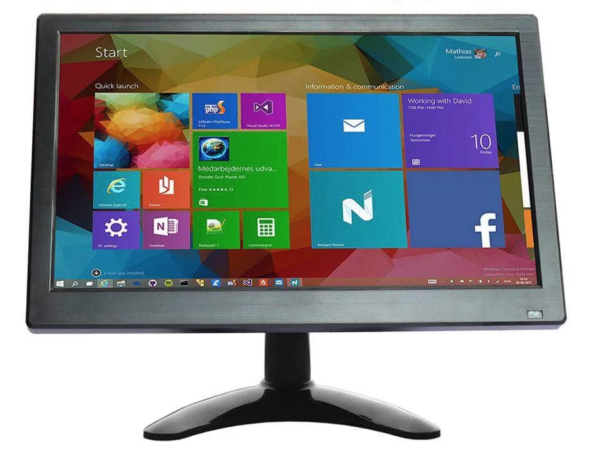 The unit is as described, featuring four inputs at the back:
HDMI
VGA
RCA
and BNC
The latter is of interest to professional broadcast users, for whom BNC is a standard composite video route). There's also a USB port at the back, but I've not worked out what its use is (possibly software updates). We find an on/off switch at the back, as well as menu control options. Thankfully there's a small remote control in the box with which switching inputs and working the menu is much easier.
Also in the box is a VGA cable, a HDMI cable, a 12V wall-wart power adapter and a stand. The latter slots into the back for desktop use, but there are also four screws that allow for mounting on other arms without the stand (I don't know if it's VESA compatible – sorry). The whole setup is very light, weighing barely one pound. A double-adhesive pad for the stand is included too, so that it can be stuck in its place to avoid moving around.
The monitor includes stereo speakers at the back, taking audio either from the HDMI input, or the external RCA input. This makes it ideal for portable field use.
Picture quality is OK, considering the size and price of the unit – however it's no match for a full size desktop monitor (and I guess it's not meant to be). While it does support inputs of 1920×1080, the native display size is likely smaller and a certain amount of downsizing is happening internally. This makes small menus and text slightly blurry and difficult to read, but it's no problem on regular images, like videos or games.
Speaking of the latter, latency is great and not noticeable at all. I've been hooking this monitor up to a PS3 and PS4, as well as a PC and played a few games, and it works great. It's an idea companion for adventures that require a quick and uncomplicated monitor to be setup.
Menu options include several presets of image settings (Standard, Movie, Personal, Vivid, Eco), which can be changed according to preference with the usual settings like brightness, contrast, sharpness, saturation, and colour temperature. Audio has similar options, volume can be controlled and muted with the remote.
If I could add one thing, it would be a 3.5mm headphone jack to monitor the audio, or connect external speakers. Other than that I'm very happy with my purchase.