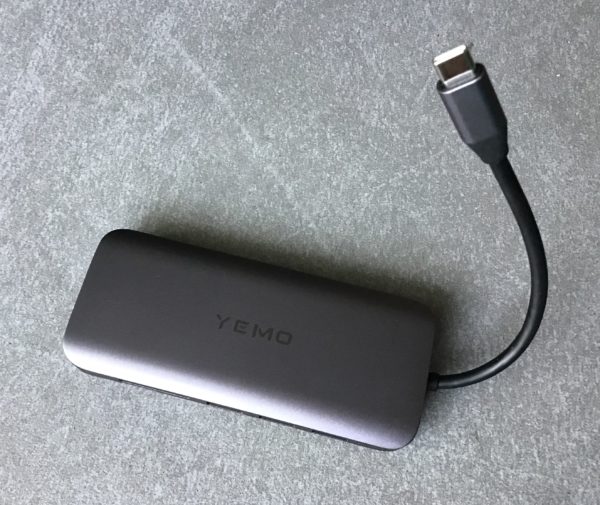 I bough this little device for my wife's Acer Chromebook. It's her work laptop, and she uses it with an external monitor. The Chromebook only has one USB 3 port and she frequently needs more than that, for anything from memory card readers to other external devices.
She has to connect and disconnect about three cables to the Chromebook every day. This is tiresome and those laptop ports only last so long before they fail when used too often. I was interested in a tidy solution to the whole mess of cables and found this neat Yemo USB-C Hub, Model YM-11.
It's a remarkable little grey box, worth its size and weight in gold. The Yemo does not require additional power and has a single USB-C input, from which it derives and distributes the following ports:
2x USB 3
2x USB 2
1x USB-C
HDMI
VGA
Ethernet LAN
and an analogue 3.5mm headphone jack

How this miracle is made possible is beyond my understanding. All I can tell you is that I plugged this gadget into my wife's Chromebook, took the HDMI for the external monitor from it, plugged the charger into the Yemo's USB-C input and… it works! It's like a magic docking station that expands the laptop's inputs and outputs into a fully fledged desktop workstation – at a fraction of the custom made docking with less features.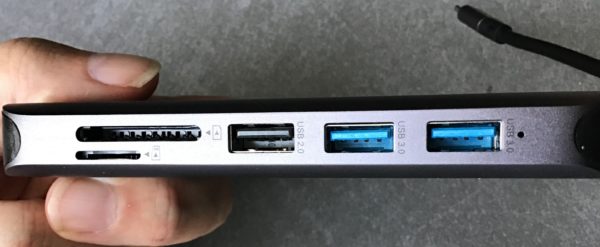 All USB connections work great, so does the memory card reader (I've only tested the full sized one) and the headphone jack. We have no need for a VGA right now, but if my wife ever needs a third monitor on her desk, she can now connect one.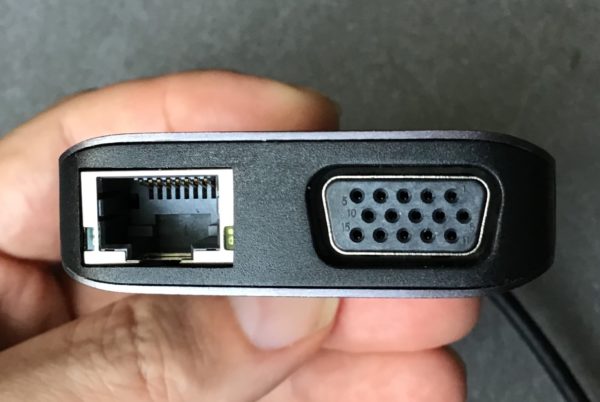 The build quality of this device is very sturdy: the cable is about 5 inches long and 4mm thick, with what appears to be a metal connector at the end. The box is made of (I'm guessing) dark grey sandblasted aluminium. The package also includes a soft carrying pouch if you need to take it on the road, preventing ugly scratches.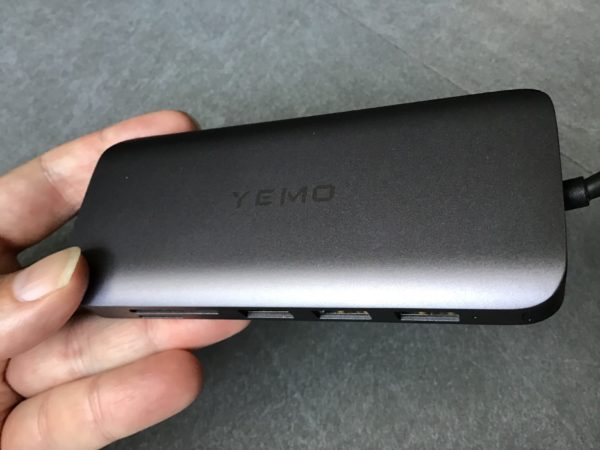 This Yemo Hub is a remarkable feat of engineering. Every USB-C laptop user should own this one. Not only do we get more USB ports, but the great many connections that companies like Apple have eliminated in favour of a wireless workflow. We need ports, and Yemo brings them back.